Whole Health
Better Beauty
Better Beauty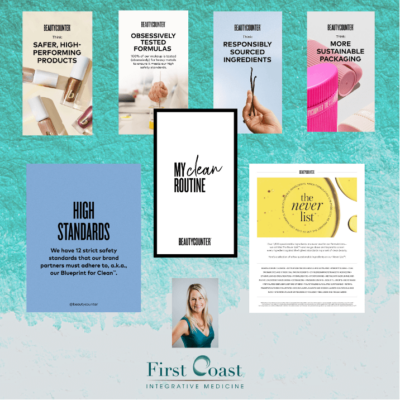 When I found out I was pregnant with my son 7 ½ years ago, I radically changed my beauty routine. I was a Bath & Body Works gal (can't even remember my favorite scents now) who wore expensive perfumes on top of that lotion.  My facial routine was anything but mindful, and I had no idea what was in my makeup, let alone anything else I was putting ON my body. I was introduced to Beautycounter around the same time, and my eyes got wide. How did I not know this stuff, and what was this awesome company advocating for better beauty all about?
Beautycounter eliminates 2800 products from their formulas (the "Never List") and has done so since the US was only banning 30…things like benzalkonium chloride, EDTA, hydroquinone, PEG compounds, retinyl palmitate…go ahead, check your products, I dare you! Many of these ingredients are hormone or endocrine disruptors and can even increase risks of certain cancers. I didn't want them near my body, and when my son was born, I didn't want them near his either!
The mission of Beautycounter is to get safer products into the hands of everyone. Their Blueprint for Clean sets 12 safety standards that are the cleanest in beauty. They've set bold goals for sustainable packaging and have high standards for responsible sourcing.  All goals support the environment.
OK, OK, but how are the products? Well, they have skin care regimens for every age and type. I mix and match from the regimens to suit the needs of my aging, sun-exposed, yet somehow still hormonally blemish-prone skin. Their makeup? There's something to be said for purity. Just a tiny bit of anything (skin or body care products included) goes a really long way. The colors in the makeup are incredible because of the natural pigments.
Sunscreens are not just people-friendly, they are reef-friendly!
Need some help with what to buy? Shoot me an email and I'll send you some suggestions. We shouldn't let what we put ON our bodies be the reason our cup overflows!